Abduwali Muse (Somali:Cabdiweli Cabdiqaadir Muuse; pronounced [ʕɑbdɪwɛli ʕɑbdɪqɑːdɪr muːsɛ]; is a Somali pirate. He is the sole survivor of the four pirates who hijacked the MV Maersk Alabama in 2009 and then held Captain Richard Phillips for ransom. On February 16, 2011, Muse was sentenced to over 33 years in U.S. federal prison. Despite being prosecuted as an adult, Muse's age was and is unknown. Muse claimed hisself to be 16, 18, 19, and 26 years of age at the time of his trial, where his mother who resides in Somalia claimed that he was 16. In the 2013 biographical film Captain Phillips, Muse is portrayed by Somali-American actor Barkhad Abdi, who was nominated for the Academy Award for Best Supporting Actor for his portrayal.
Early Life
Edit
Muse was born in Galkayo, a divided city in Somalia. Authorities state he was born in 1990, while his mother claims he was born in 1992, and his father states he was born in 1993.
Muse is short in stature - Colleen Long and Larry Neumeister, writing for the Associated Press, reported that Muse was, "only five foot two inches (157 cm) tall."
Maersk Alabama hijacking Edit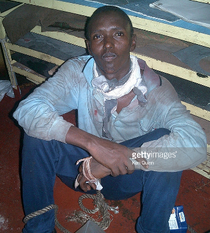 According to his indictment, Muse was the first of the four men to board the Maersk Alabama. After all four pirates were aboard, the men began interrogating Richard Phillips, the ship's captain, and at least two other crew members on the bridge. At some point, crew member ATM Reza convinced Muse to leave his firearm behind while searching the ship. Muse and Reza left the three pirates behind with Phillips and the crew on the bridge and began searching the container ship's engine room. Chief Engineer Mike Perry surprised Muse, and chased him through the room before finally stabbing him in his left hand with a pocket knife. Perry brought Muse to a secure room in the bowels of the ship where 14 other crew members were hiding. The remaining crew took Muse captive and gave him first aid. Phillips offers Muse and his men money and to leave the Alabama safely on the lifeboat. Attempting to exchange Phillips for Muse however goes sour, and the pirates forced Phillips into the lifeboat. All four pirates escaped with Phillips held hostage inside the lifeboat.
A day later, the USS Bainbridge intercepted the lifeboat and navy officers negotiated with the armed pirates for hours and initially agreed to take Muse on board the Bainbridge to "meet" with elders from his clan to negotiate the release of Phillips. On the Bainbridge, Muse was given first aid for his hand injury he had received five days earlier on the Alabama and water. He had told the navy officers that they were running out of Khat, a native plant found in the Somali region used to combat sea sickness and that the lifeboat had ran out of gas. Without the Khat, the other pirates were getting sea sick.
Not long after Muse was taken on board the Bainbridge, the three remaining pirates were shot and killed by Navy SEAL Team Six. Muse was then charged and taken into American custody, and was thought to be the first person to be charged with piracy in an American court in more than 100 years, when courts ruled in 1885 that the Ambrose Light was not a pirate vessel. A more recent case, 2008's United States v. Shi, which was quoted in his indictment, involves murder and a crew member taking over a ship and holding a hostage.
Additional Attacks
Edit
In 2010, Muse was charged in connection with two additional attacks on international shipping. The indictment does not name the two vessels involved, hijacked in March and April 2009.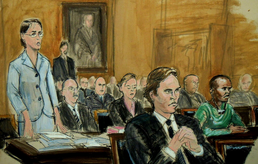 Muse was tried in the United States District Court for the Southern District of New York in New York City.
Mentioned before, there was confusion about his age. According to the New York Daily News, he was at the time 17 to 19 years old. Muse was charged, and was to stand trial in New York because of the local FBI office's expertise in handling cases where major crimes were perpetrated against Americans in Africa, such as the 1998 U.S. embassy bombing in Kenya and Tanzania. CBC News also reported that U.S. authorities had considered transferring him to authorities in Kenya per international agreement to prosecute pirate suspects.
Upon being captured, U.S. officials reported Muse as being 16 to 20 years old, and that his name was Abduhl Wali-i-Musi. U.S. Secretary of Defense Robert Gates also asserted that the three dead pirate suspects, who remain partially unidentified, and Muse were all between the ages of 17 and 19. On April 20, 2009, CBC News reported that U.S. officials indicated that investigators had confirmed Muse was over 18, which precluded additional legal steps to prosecute him.
Muse's mother, Adar Abdurahman Hassan, tells a different story. In a telephone interview with the Associated Press, she stated that the authorities had both his name and age wrong. She indicated he was only 16 years old, and that his name was Abdi Wali Abdulqadir Muse. In an interview with the BBC Somali service, Muse's mother also appealed to the U.S. government and president to free her son, asserting that Muse had been lured into pirate activity by wealthy unnamed criminals.
In a court ruling on April 21, 2009, U.S. Magistrate Judge Andrew J. Peck decided Muse was not under 18 and that he could be tried as an adult. Muse was then brought to New York to face trial on charges including piracy under the law of nations, conspiracy to seize a ship by force, conspiracy to commit hostage-taking, and firearms related charges, carrying a potential of up to four life sentences. The charge of piracy has a mandatory life sentence (18 USC 1651), and there is no parole in U.S. federal prisons.
On May 19, 2009, a federal grand jury in New York returned a ten-count indictment against Muse.
Muse plead guilty to the hijacking, kidnapping and hostage-taking charges on May 18, 2010. Charges of piracy and possession of a machine gun were dropped in exchange for the guilty plea.
On February 16, 2011, Muse was sentenced to 33 years and 9 months in federal prison. His register number: 70636-054. As of March 2017, he is incarcerated at the Federal Correctional Complex in Terre Haute, Indiana.
Captain Phillips (2013) Edit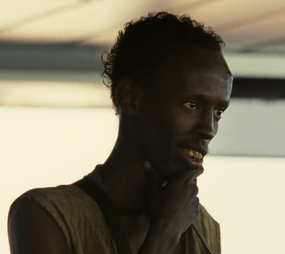 In the 2013 biographical film Captain Phillips, based on the MV Maersk Alabama hijacking, Abduwali Muse is portrayed by Somali-American actor Barkhad Abdi. Abdi was later given the Academy Award for Best Supporting Actor for his performance. In the film, Muse wields an AK-47, and refers to Richard Phillips as 'irish'. Unlike how he was dressed in real life, the Muse in the film is dressed much differently; instead of wearing denim jeans and a blue button-up shirt he wears rag clothing fitted to suit his poor lifestyle and criminal activity. Abdi's portrayal of Muse seems to indicate that the character is much older than 16 at the time of the attack, and that he appears to be 19 years of age: exactly what the real Muse finally told authorities before he was convicted and sentenced in a New York courtroom.
Sony Pictures have made several attempts to meet the real Abduwali Muse, but he declined, believing that they were just going to portray him as the bad guy.
While In Prison
Edit
The Smiling Pirate (2013 -) Edit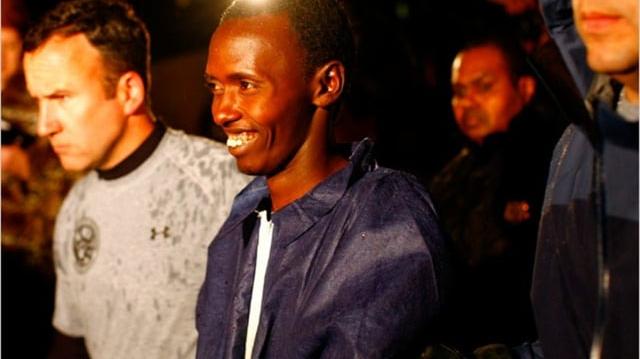 The Smiling Pirate
is an unreleased and possibly unfinished documentary focusing on Abduwali Muse, the leader of the 2009
MV Maersk Alabama
hijacking in which he and three other Somali pirates seized control of the vessel. In 2013, the documentary was said to be in the works by Kaizer Matsumunyane, a man who had done a series of interviews over the phone with Muse. In a review of his plans for the documentary, he released a message Muse left to him over the phone in which the jailed pirate said:
"Uh, I am trying to send you some of my background check so you can use it but, these people, they don't want you to use those stuff like my...how I grow up and how came a criminal charging in United States, those things. But they don't let me do that. If I tell you over the phone now, they are gonna take away the phone from me. I try to tell my story...but they're saying there is a protection of the public you cannot tell your story. They just want to be using they don't want my story to come out. They are only protecting that. Everytime I try I try to tell my story they block. They made me plead guilty when I was 16 years old. They don't want all those things to come out. They put me in a place they call SAM's (Special Administrative Measures) alright. They put me over there they say you cannot contact nobody. Even you cannot hear a radio. I was there almost one year and a couple of months, but driving me crazy so they get me to plead guilty you understand? What gave them to send me to SAM's so they can make me go crazy then I can say let me out of here I plead guilty."
In early 2013, Matsumunyane released this statement -
"In October 2013, Sony Pictures will release a Tom Hanks motion picture purporting to tell the story of the Maersk Alabama's hijacking in 2009 by a band of Somali Pirates.  This narrative is told from the vantage point of its captain, Richard Phillips, played by Tom Hanks.  My documentary, however, tells the story and more but from the vantage point of the one surviving Pirate, a teenager named Abduwale Abdukhad Muse. With three other Somali teenagers, Muse took the ship's captain Richard Phillips hostage. During the rescue by US Navy Seals, Muse's three compatriots were killed but he survived to become the first person to be charged of piracy in the United States in more than a century.  The Captain, Richard Phillips, wrote a book called a Captain's Duty, about the hijacking episode and was lauded as a hero but soon after the crew of the ship came out with a conflicting version of the episode, a version they say they had previously sworn to take to their grave. Their version contradicts the captain's version and tells a different story. This version is yet to be fully told.
"The first time I saw Muse was when he was being brought to America; handcuffed and surrounded by security agents.  What baffled and intrigued me was that he was smiling as he was escorted by the security agents whilst handcuffed.  I couldn't understand who would be smiling in that position and why he was smiling.  That smile intrigued me and I decided to find more about Muse himself. It has been a journey that has taken me to being held as a prisoner in Somalia and attending his trial and sentencing in New York.  The more I found out about Muse —  growing up in Somalia in a failed state, his American dream, the girl he was working to marry, the recruitment into piracy at the age of 16, the piracy training he undertook, the three ships he hijacked, being captured and held hostage by the Al Qaeda linked Al Shabaab in Somalia, the hijacking of the American flagged ship, the trial in the U.S, experience of solitary confinement for more than a year, life in prison and his fight for a retrial — the more I felt that Muse's story needed to be told. During the hijacking and hostage drama of the Maersk Alabama, one of the ship's crew stabbed Muse's hand with an ice pick and tied him up. The crewmember said Muse pleaded with him to take him to America. The Maersk Alabama crewmember, ATM "Zahid" Reza, said Muse told him it was his dream to come to America. "His dream has come true, but he comes to the United States not as a visitor, but as a prisoner," Reza said.  I was intrigued enough to want to make a documentary about him, the working title, no coincidence:  The Smiling Pirate.  Many people have theorized about Muse's smile but still no one knows for sure why he was smiling.  Only Muse knows but he has not yet had his chance to tell us."
"When Muse was first arrested there was an issue with his age because he said he was 16 years old when first arrested and his parents also said he was 16 years old so his trial kept being postponed to find out his real age. Later an American agent said Muse had confessed to being 18 years. Muse was then charged as adult and sentenced to nearly 34 years. Since that time Muse has learnt to speak English and read all the information he could get his hands on about his case. He also read about the laws in the U.S. Muse is fighting for a retrial and is trying to file papers with international courts. Muse wants to tell his story but he says everything is being done to silence him. For example, Muse says he was kept in solitary confinement for more than a year under what the U.S calls SAM's (Special Administrative Measures) used mainly for terrorist suspects and he says this was done to make him confess his age. Muse twice tried to commit suicide under SAM's and was showing signs of PTSD. He says that SAM's made him to start losing his mind and just wanted to plead guilty to get out of the extreme solitary confinement.  The documentary will also explore the use of SAM's with regards to Muse and other people who are designated terrorism suspects. "
"To the world, Muse is nothing but a pirate.  We live in a culture of labels and we lose people behind those labels.  Labels dehumanize.  They make it easier for us to compartmentalize people, to put them in a box and forget about them.  That is the world we live in.  With The Smiling Pirate, I also want to give a face and personal story to Somali piracy.   It is important that we know each other's stories and do away with the walls we hide behind.  As of September 30th 2012, suspected Somali pirates were holding 11 vessels for ransom with 167 crewmembers as hostages onboard.  In addition, 21 kidnapped crewmembers are being held on land.  By knowing each other's stories, we are able to move forward and create dialogues that can diffuse problems."
"I speak with Muse regularly by phone, email and letters.  He wants a chance to tell his story. In telling Muse's story, I hope to put a face to modern day piracy and tell the story that is missing from the headlines. Please help me tell this story and it doesn't have to be through donations but through telling other's about Muse's story. "
"There are many people involved in telling Muse's story and they have given their time and skills freely. Contributions from the crowdfunding will be used for interviewing Muse in prison, traveling to Somalia again to interview people who are involved in Muse's story and interviewing the crew of the Maersk Alabama in the U.S.  The contributions will be used for traveling, equipment, food and accommodation. The amount contributed will not cover the whole expenses of the film as the budget of the project is the more than what we are asking for on Indiegogo. The amount from Indiegogo will help us start filming while we find other ways of getting the rest of the funding. We think it is imperative that we film the interview of Abduwale Muse before everything else as he is afraid that his story will not be allowed to be told and he urgently wants to tell it so the Indiegogo fund will be used for that. The film will have an animation aspect to it as Muse relates his story. The animation and other aspects of the documentary will be covered with funding that we are currently applying for outside of Indiegogo."
Recovery From the Hijacking
Edit
Despite the documentary possibly still being unreleased or in the works, Kaizer continues to keep tabs on Muse while he's serving his time at the Federal Correctional Complex in Terre Haute. In 2013, when the Captain Phillips film was at it's height of release, Matsumunyane opened up a Facebook page entitled The Smiling Pirate, in which he uploaded several statuses as well as photos on Muse's well being. Sometime prior to February 2017, Muse, while incarcerated, began to study Math, English and Sociology in order to apply for a general education development, or GED. By February 20, 2017, it was revealed by a photo uploaded to the Facebook page that Muse had successfully graduated and seemed to be doing okay.
In an earlier status update typed by Kaizer Matsumunyane but implied to have been said by Muse himself, the post read that Muse was celebrating his birthday but due to age confusion, chose April 12 (the day Richard Phillips was saved from captivity of Muse and his band of Somali pirates) to celebrate it on. Muse claimed he was very remorseful about what happened but missed his "friends" who were killed by the Navy. Other posts on the page reveal how Muse is treated as a terrorist, is unable to often contact his family most notably his mother, and how he was once sent to solitary confinement. Above all else, with a release date set and a GED earned, Muse seems to be doing well and serving his time with patience.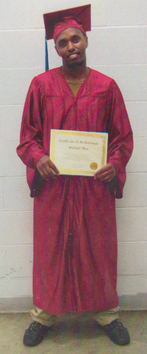 Did You Know?
Edit
There are several inconsistencies on who attacked Muse in the Maersk Alabama engine room. While the Discovery Channel documentary Captain Phillips: Somali Pirates Inside Story (2014) depicts that Chief Engineer Mike Perry surprised and stabbed Muse in his left hand with a pocket knife, other sources claim that crew member ATM Reza, who convinced Muse to search the ship unarmed, attacked and stabbed him in the hand with an ice pick. In the film Captain Phillips (2013), we seen an unidentified crew member run up and stab Muse with a knife. Who did what in actuality is unclear.
Abduwali Muse is scheduled to be released on October 31, 2038.
Somali-American actor Barkhad Abdi, who portayed Muse in the 2013 film Captain Phillips, had to undergo a month and a half of training for the film; to standing in a pirate skiff, to holding and firing an AK-47 assault rifle, and to enduring 100 degree heat. He had never met co-star Tom Hanks until he stormed the ship's bridge in the film and adlibbed the famous line - "Look at me, I'm the captain now."
Muse had tried to commit suicide on several occasions while in a cell at Special Administrative Measures (SAMs), he endured incarceration at SAMs nearly a year and a couple of months prior to pleading guilty to piracy.
Barkhad Abdi, the Somali-American actor who portrayed Muse on the big screen in the 2013 film Captain Phillips, was born in the Somalian capital of Mogadishu; only 10 hours away from Galkayo, Muse's birthplace.
References
Edit
1.[1]Inmate Locater
2.[2]Free and Frisky: Maersk Alabama Sailor